3 Things You May Not Know About Real Jobs Hawaii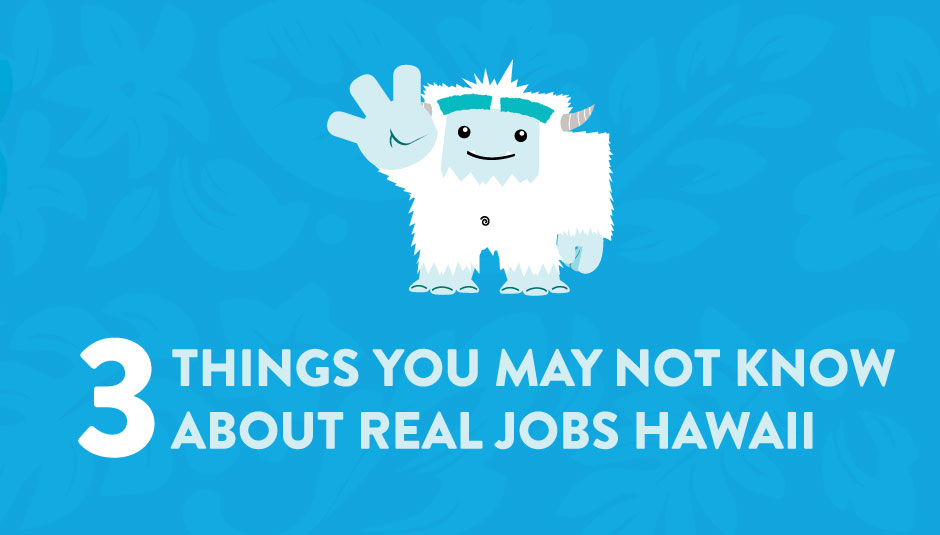 The soaring cost of recruitment and advertising in the face of Hawaii's narrow talent market means that finding qualified candidates is a challenge for small and large employers alike. That's where Real Jobs Hawaii comes in. As Hawaii's free online jobsite, Real Jobs provides local employers with an easy way to advertise their open positions and reach out to jobseekers.
You may have seen our mascot Steve T. Yeti out and about town, or even snapped a selfie or two with him, but there's more to us than a giant, furry abominable snowman. Here are three things you may not know about Real Jobs Hawaii.
There's never a fee to post a job
While Real Jobs offers all the tools and functionality of large corporate online recruiting sites, we never charge employers a fee to post their open positions on the site. That means your business finally has the opportunity to post all of your open jobs – even the smaller, part-time positions that normally wouldn't justify the cost of advertising. While there's no denying that Hawaii's tight labor market is creating a pinch and taking advantage of the recruiting tools and resources you have available, Real Jobs can help you snag your next employee.
We're powered by ALTRES Staffing
It's only natural to wonder how we're able to provide a free resource to both jobseekers and employers. Real Jobs is powered by Hawaii's largest kama'aina staffing company – ALTRES Staffing. The site was created to address both the rising cost of job advertising here in Hawaii and provide an additional resource for local jobseekers and businesses to utilize.
We have a built-in ATS system
Real Jobs make the process of posting jobs and managing applicants a breeze. You can create a completely customizable account and there's no limit to the number of jobs you can post. Our built-in applicant tracking system (ATS) allows you to rate, organize, and track applicants and review resumes right from your account with no limit to the number of applications you can receive.
Whether you already have an account with us or are thinking about testing the waters, head to our employer's page to start posting your open positions for free today!
Posted on May 11, 2016