From the Real Jobs Team: Best Interview Horror Stories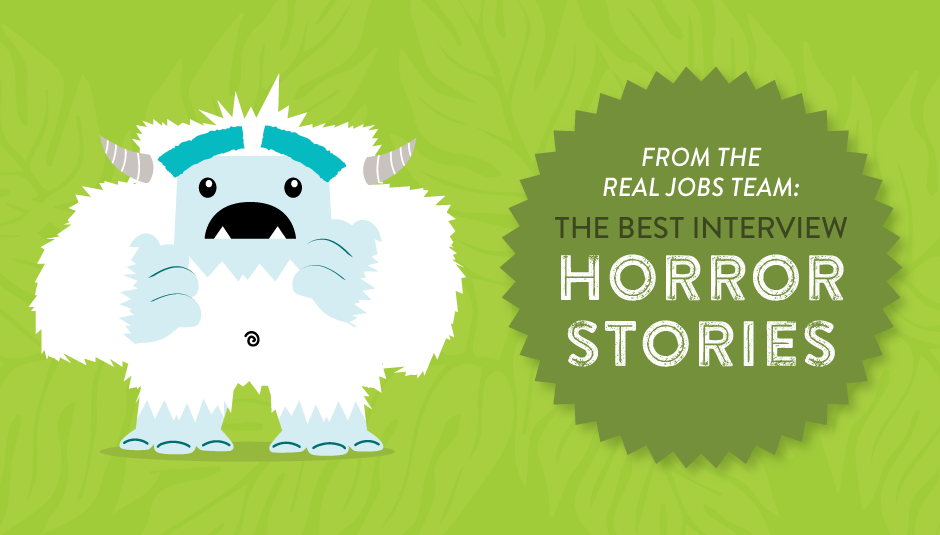 The candidate sounded enthusiastic over the phone, their resume checked off all the boxes, and all you have left to do is bring them in for an interview. What could possibly go wrong, right? As it turns out, a lot of things. We decided to ask our team here at Real Jobs to share some of their most horrific interview experiences. Here's what they had to say:
Smell ya later
I was interviewing candidates for a sales position. The first person I interviewed was on time and at first glance, looked professionally dressed. As we went to shake hands, he looked and smelt like he just finished a running a marathon – between his sweat stains and body odor I couldn't decide which was worse.  I assumed that he was just really, really nervous. Turns out that he literally ran a marathon – 26.2 miles – before showing up to the interview! He said he was training for an elite competition. Apparently, someone failed to train him on proper hygiene! 
Miss Aloha
Back when I worked in the hotel industry, I interviewed a girl for a receptionist position. Before I even had the chance to stick out my hand to greet her, she came in for a big hug and a kiss on the cheek. Yikes! I'm all about friendliness, but her greeting was more suited for a long-time friend or aunty, not the person who was about to decide if she was getting the job! Or shall I say not get the job.
Tardy sauce
This one lady was really late for her interview. Mind you, she didn't bother to call to say she was running behind. When she finally did show up, we were so slammed with other interviews and meetings that we couldn't fit her in that day. She began ranting about her commute, grabbed her resume off the counter, threw it at me, and stormed out of the office.
Simon says
Our team was in need of a highly skilled web developer, so many of the applicants we interviewed were on the mainland. During one of our phone interviews, I could clearly tell that I was on speaker phone. What the applicant couldn't tell was that I could also clearly hear someone in the background feeding him answers to the questions I was asking. When I asked who it was, he got really nervous and hung up. Never heard from him again.
Have a funny interview story you want to share with us? Visit our Facebook page or shoot us a Tweet on Twitter.
Posted on December 21, 2016